UPDATE: Released July 28, 2003 after more than 11 years behind bars
James Geddes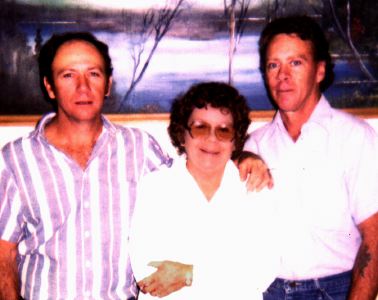 Photo: James (right) posed with his mother and his now-deceased brother E.C. (left).
sentenced to 150 years, reduced to 90 years
charged with cultivation and possession of five marijuana plants
In 1992, James Geddes was walking along a street with a friend when he got arrested. The police got a search warrant and went to the home rented by his friend. They found a small amount of marijuana, paraphernalia for smoking marijuana, and five plants growing in their vegetable garden.
There was no evidence that James lived at this house, although he was a frequent visitor. He refused to plea bargain as he claimed his innocence and was sentenced to 75 years and one day for cultivation of five plants and to another 75 years, plus one day for possession of marijuana. He was also charged with possession of a firearm and paraphernalia. James filed an appeal on his sentence. In 1995, his appeal came through, which reduced it to 90 years.
"I honestly feel like I have been kidnapped by the state of Oklahoma. I have never murdered anyone, raped anyone, or hurt any children. People feel they have the right to choose their sexual preference. If they want to end a life by abortion, if they want to inject nicotine into their lungs, if they want to drug themselves with alcohol, but because I choose to smoke a little marijuana, I have to go to prison for years, maybe the rest of my life....
"How can it be that the President, his wife, the Vice President and his wife, the mayor of Washington DC, even the Speaker of the House can do these things, but I must pay dearly?"
Good News! James has received an early release!
Thanks to all the letters and hard work that showed community support for his case, along with his own hard work and that of his attorneys, James has been given a parole date in the Summer of 2003. This is a huge step. He's going to need your help and support when he gets out. In a close call, James almost had to spend another year behind bars for possessing a pack of cigarette rolling papers. Fortunately, it didn't happen and he's safely back home with his family in Kansas at this writing.
James would appreciate a letter of support and welcome from you.
James F. Geddes PO Box 1000, Meade KS 67864
Letter from James Geddes, December 2002:
Hello,
Merry Christmas. I hope this card finds you in good health and in the best of spirits. As you can see, I have been moved to another facility. I am doing fine, just waiting for my departure from here next August 2, 2003. God is great, isn't he? Thanks for everything. I look forward to our inevitable meeting someday on the outside.
PS: I am still working on the year in Texas Conty for rolling papers. No response from them yet.
-- James Geddes, 12/8/02.
Letter from James Geddes, May 2001:
Hello,
The very first thing I'd like to do is express my heart felt thanks for the opportunity to speak with you from the confines of this medium-security facility here in Oklahoma. July 23rd will be 9 calendar years that this state has received as partial payment on the 45 years and 1 day modification of a 75 year and 1 day sentence for cultivating 5 marijuana plants.
It's possible that this October when I once again have the privilege to try and parole to my NEXT consecutive 45 year sentence-modified again from 75 years-for possession of marijuana, things will be better. Am I bitter? You're damn right I am. As a matter of fact, I'm extremely bitter. If there is any way you can use me as a catalyst to help with your crusade, by all means let me know what it is. I'll be here because they have me stuck like Chuck.
My mother, father and brothers Orville, E.C., and Roy, all back home in Kansas, thank you, as do I.
-- James F. Geddes
Letter from James Geddes, December, 2000:
Keep running the photo of me on the website that includes my brother and my mother. The reason I am asking this is because my brother E.C. passed away in May of this year (2000). He did not make it a year after they found the cancer that had invaded his body and consumed him. Me and my family miss him dearly. As far as any actions concerning my case, I have attempted several things. I have petitioned the Embasy of the Netherlands twice recently, asking for political asylun. I have received no response as of this date.
-- James Geddes, 12/8/02.