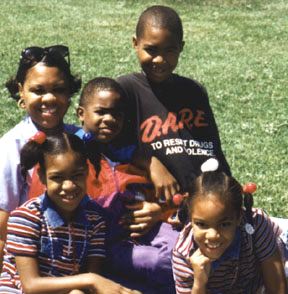 Tonya Drake
age 35,
served a 10 year mandatory minimum sentence
First offense, possession with intent to distribute crack cocaine
After working at several jobs ranging from waitress to secretary, Tonya, in the summer of 1990, was trying to support her four young children on the benefits she received from Aid to Families with Dependent Children.
On June 21, Tonya attended a swap meet near her home in Inglewood, CA, where she ran into an acquaintance from her neighborhood, Fred Haley. He asked her to mail a present to his brother in Chicago because, he said, his birthday was the next day and it had to go right away. He handed Tonya a $100 bill telling her to keep the change. Tonya later said she was a little suspicious, but "needed the money for my children, so I took the chance."
The security guard at the Airborne Express office became suspicious because they rarely dealt with individuals at their airport location and because Tonya appeared "nervous." He followed her outside, taking down her license plate, then he and other employees opened and searched the package to find a plastic bag inside a laundry soap box. The Los Angeles Police Department field test on the contents established them as 232 grams of crack cocaine.
When called in for questioning by the LAPD, Tonya, having no knowledge of the criminal justice system, told the above story. When her mandatory minimum sentence was handed down, however, she was ineligible for a "substantial assistance" reduction because Fred Haley died shortly after her arrest. Federal agents took over the case because of the amount of drugs involved.
Tonya's children have fortunately been able to remain in the house they shared with Tonya's older sister and her family. She spends her time working in 'cut and sew' and attending night school and Jehovah's Witness services. Tonya prays "that Jehovah will answer my prayer to be back with my children so they won't make no mistakes like I did."
Thus far, Tonya's prison experience has taught her this:
"The feds have taken all my rights from me. They take a good person out of society for a mistake and leave the real crazy criminal out there free."
---

HOME