America's New POWs:
---
Faces from the Human Rights
and the Drug War exhibit
A project of Human Rights 95 (HR95)
POW Photo Gallery: Click names or thumbnails for information on any of these highlight cases.
| | | | |
| --- | --- | --- | --- |
| Conspiracy | Cocaine | Medical Marijuana | Medical Marijuana |
| Marijuana Conspiracy | Crack Cocaine | Opium | Marijuana |
| Ecstasy Conspiracy | Crack Cocaine | Crack Cocaine | Marijuana Conspiracy |
| Marijuana | Cocaine | Crack Cocaine | Cocaine Conspiracy |
| Cocaine | Crack Cocaine | Marijuana | Cocaine |
| Marijuana | Medical Marijuana | Cocaine | Marijuana |
| Sacramental Marijuana | Marijuana | Cocaine | Cocaine |
| Killed by national guard | Killed by police | Marijuana | |
About 60% of federal prisoners are drug offenders.
Just 3% are violent offenders.
Whereas violent offenders serve an average of 54% of their prison term,
drug offenders are legally required to serve at least 85% of their prison term.
Source: US Justice Department Bureau of Prison Statistics
---
WHO'S IN PRISON?
When Human Rights 95 requested information from nonviolent Drug War prisoners who feel their penalties are unjust, we were flooded with painful case histories. Even more could not provide photos.
These are prisoners of the Drug War. They have real lives and loving families. They have human rights and human faces. If the people featured in this exhibit look like your friends and neighbors, it's because they are.
Some are completely innocent. Many admit their mistakes and want to change their ways. Others feel that it was the government that committed the crime, not they. Many were entrapped in a moment of weakness or betrayed as part of an acquaintance's bargain to get a lighter sentence. These personal stories provide but a glimpse of how pervasively such human rights abuses have become institutionalized in a nation once known as "The Land of the Free."
---

Marijuana: Prisoners of Conscience
The FBI reported that, nationwide, there were 695,201 marijuana arrests made in 1997 alone. Of these, 87% were for possession.

Since 1965, there have been over 11 million marijuana arrests in the United States of America. The marijuana arrest rate right now is at an all time high.

An estimated 37,000 marijuana prisoners are currently sitting in federal and state prisons and in local jails in the U.S.
Sources: FBI Uniform Crime Reports, Marijuana Policy Project
---

African-American Men
Nationally, 1 out of 3 African-American males in their 20s are either in prison, on probation, or on parole. In Washington DC, that percentage is 1 out of 2 African-American men between the ages of 15 and 35.

If current trends continue, more African American children will go to prison than to college when they grow up.

If current trends continue, African-American children are more likely to go to prison than to college when they grow up.
---
USA: Leading the World In Incarceration Rates
Largely fueled by the Drug War, America imprisons a higher percentage of its citizens than any other nation in the world - except for Russia.
Drug czar General Barry McCaffrey, head of the federal Office of Narcotics Control Policy, has called this "America's Gulag" and warns that "we cannot arrest our way out of this problem." But the prison industrial complex grinds on relentlessly. Our government now locks up over 1.7 million people at the federal, state, and local levels. The federal prison population alone is over 100,000 people and projected to swell to 130,000 by the end of the decade. Only 3% of federal inmates are violent criminals. About 60% are drug offenders.
Since mandatory minimums were enacted, the number of women inmates has tripled. The majority of them are first time, nonviolent, low-level drug offenders. Over 80% of the female prisoners in the United States are mothers; 70% are single parents. Their children are left to fend for themselves, whether among relatives, in foster homes or on the streets.
Meanwhile, an African-American male is more than seven times as likely to be incarcerated as the average American; almost five times as likely as his South African counterpart.
More and more Americans have begun to ask how many lives will be destroyed by US drug policy that wages war against its own people.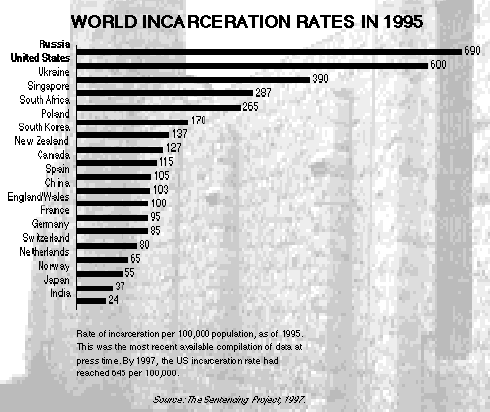 FEDERAL BUREAU OF PRISONS
Prisoners Profile
Number of Institutions: 93


TOTAL POPULATION* : 116,376

in Bureau of Prison facilities** : 105,090

in Contract facilities*** : 11,286


AVERAGE INMATE AGE : 37


GENDER

Male 93%

Female 7%


RACE

White 56.4%

Black 40.3%

Asian 1.7%

American Indian 1.5%


ETHNICITY

Hispanic 28.3%

CITIZENSHIP

United States 72.8%

Mexico 9.7%

Colombia 4.1%

Cuba 2.7%

Other 10.7%

SENTENCED IMPOSED****

Under 1 year 1.8%

1-3 years 12.8%

3-5 years 13.5%

5-10 years 30.1%

10-15 years 20.1%

15-20 years 8.8%

20 years &endash; Life 10.1%

Life 2.8%

INMATES BY SECURITY LEVEL

Minimum 28.0%

Low 35.1%

Medium 23.0%

High 13.8%

____________________________________

* Total sentenced and detained including all Bureau
of Prison (BOP) facilites and contract facilites.

* * Penitentiaries, Federal Correctional Institutions,
Federal Prison Camps, Metropolitan Correctional Centers, Federal Medical Centers, and others.

TYPE OF OFFENSE ****

Drug offenses 59.1%

Robbery 9.3%

Extortion, Fraud, Bribery 5.6%

Firearms, Explosives, Arson 8.6%

Property offenses 5.8%

Violent offenses 2.5%

Immigration 4.1%

White Collar 0.7%

Cont.Criminal Enterprises 0.8%

Courts or Corrections 0.6%

Miscellaneous 2.6%

National Security 0.1%

PERSONNEL 30,208

STAFF BY GENDER

Male 73.3%

Female 26.7%

STAFF BY RACE

White (Non-Hispanic) 67.7%

African American 19.1%

Hispanic 10.0%

Other 3.3%

COST OF CONFINEMENT

Fiscal Year 1994

Category: Daily / Annually

Bureau-wide:**** $58.50 / $21,352

Minimum Security: $38.01 / $13,875

Low Security: $44.53 / $16,255

Medium Security: $44.32 / $16,178

High Security: $58.38 / $21,307

Detention Centers: $62.81 / $22,925

Administrative: $51.47 / $18,786

Major medical Centers: $79.21 / $28,911

Community Corrections: $38.90 / $14.197

____________________________________

*** Community Corrections Centers or detention facilities contracted by the BOP, operated by non-Bureau staff.The Bureau contracts with these facilities to house Federal offenders on a per capita basis.

**** Refers to sentenced offenders in BOP facilities.

March 28, 1998.
For additional information, please contact the Prison Bureau's Office of Public Affairs at 202-307-3198.