Shattered Lives:
Portraits From America's Drug War
by Mikki Norris, Chris Conrad,
and Virginia Resner

An unflinching look at the people and the human rights violations committed under the auspices of U.S. drug policy. Pictures, stories and analysis based on the internationally acclaimed photo exhibit, Human Rights and the Drug War.
ISBN 0-9639754-3-9 (c) 1998, 1999
Paperback. 8-1/2 x 11".
Color cover, 128 pp, some color interior.
$19.95, plus $3.95 shipping
(CA residents add 8% sales tax).
Toll Free Credit Card orderline:
866- CX-BOOKS
(866-292-6657)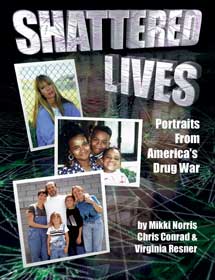 Send check or money order to
Creative Xpressions
Box 1716
El Cerrito CA 94530
email: Mikki@hr95.org

For bulk discounts call
tel: 510-215-8326.