What is the Human Rights and the Drug War (HRDW) Project?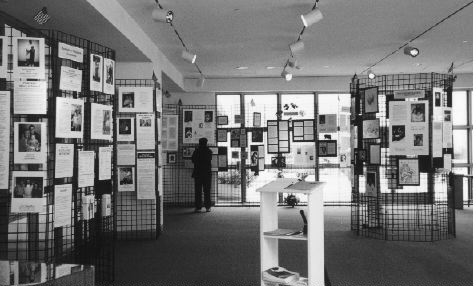 Showing of the original exhibit at the San Francisco Main Library upper gallery
HRDW is a multi-media project that combines the stories and photos of Drug War POWs with facts and figures about the US Drug War, to confront the conscience of the American people and encourage individuals to take action for social justice.
How to sponsor an exhibit showing
If you have a good setting for the display showing, please let us know. If you or your organization are unable to purchase your own set of the exhibit, Human Rights and the Drug War may be able to loan you a set for a specific showing for shipping costs and a small donation. If you can help arrange a venue, we would like to discuss this with you. Click here to contact Mikki Norris to make arrangements.
We also offer a special series of laminated pieces for sale at affordable prices that can be customized to meet your group's public education needs. We have developed a slide presentation as well. See below for more details.
This project depends on philanthropic support.
Send your generous check made out to
Human Rights and the Drug War / HRDW
PO Box 1716, El Cerrito, California 94530 USA
---
You can own and use your own Human Rights and the Drug War educational exhibit in laminate form
Human Rights and the Drug War has been creating portable, laminated versions of the exhibit for the last few years. There are now about 30 sets of varying size and scope around the country (a list is available on our web site, www.hr95.org). We have made displays that present a cross-section of drug offenders, or others that have concentrated on marijuana POW's or medical marijuana, women and children, or African Americans. The emphasis is showing the human face of the Drug War, so we recommend a variety of photos/stories, and a few charts that provide critical information.
This weatherproof display is convenient, lightweight, and easy to hang and show.
The cost of purchasing a laminate display can vary. We have made sets that are only 15 pieces up to 90 piece displays. A good medium-sized display can be created for about $300 plus shipping. The average cost has been about $10 per piece, plus about $20 for shipping. You can figure your budget that way (approx. $150 and up to $600). By purchasing a display, you will help to keep the project alive and going, (as we have no foundational support at the moment.) If you would like us to add some stories from your local area, that is possible too. For a minimal additional charge, we can script and format the pieces to create a good design.
The great thing about the Human Rights exhibit is that is self-teaching. It can be easily set up at a variety of public settings such as universities, churches, conferences, rallies, public buildings, galleries and libraries. If we can get these displays seen throughout the country, we have the potential of reaching a massive audience with a minimum of effort. The possibilities are endless. To set up a library showing, it would require a few inquiries or meetings with the library staff to establish a location for the display, a date for installation, and an hour or two to put it up. If you can combine the showing with a talk at the library, that would be even better. Please contact Mikki Norris via e-mail or by telephone at 510-215-8326 to discuss your needs and the possibilities.
---
Display Sections and Topics
Introduction to Human Rights and the Drug War
UN Universal Declaration of Human Rights violations (excerpts from this document and the U.S. Bill of Rights are contrasted with the abuses of the Drug War)
Prisoners of War Wall (with photos, case histories that illustrate various issues)
Information and charts (mandatory minimum sentencing data, prison growth, incarceration rates, private prisons,social and financial costs, etc.)
What about the children? Photos and quotes by incarcerated parents
Cultural / Religious Prisoners of Conscience
Asset Forfeiture
Medical Marijuana (Highlights prisoners, case histories, overview of present policies)
The tragedies (A memorial to the victims killed by law enforcement agents and others who have died as a result of the Drug War)
Drug testing
Physical Description of the Original Museum Quality Exhibit
The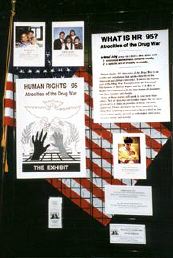 Human Rights and the Drug War (HR 95) display was originally titled, "Atrocities of the Drug War." It contained approximately the same content as the current, laminated version, but it was made of different materials. Its configuration was flexible, but in its entirety, the exhibit was quite large, requiring approx. 800 sq. ft. of space. Individual topic sections made complete statements, so it was set up and displayed according to thematic sections, or the entire exhibit was selectively pared down to suit the needs of a particular setting or event. Since it took nearly five hours to set up, and expensive to ship, it is rarely used these days.
Physical Specifications of the Museum-scale HRDW Display
Approx. 230 separate pieces of various sizes, professionally mounted on foam core, with Velcro mounting brackets attached for easy assembly and disassembly.
Over half of the exhibit consists of photographs and graphics (statistical charts, graphs, artwork, etc.).
The remainder is text, poetry, personal writings, letters, etc.
Items may be adapted for mounting on other appropriate surfaces (as approved by the Human Rights and the Drug War coordinators).
Assembles onto 55 display metal grids, 2' wide X 8' tall each, attachable or free-standing.
Setup time is approximately four to six hours, with a crew. Tear down is much faster, although pieces also need to be repackaged for transportation.
---

Slide show presentations
In addition, we do slide show presentations. These are very powerful, highly effective and informative. Please contact us to arrange a slide show presentation and talk for your university, organization, congregation, or conference.
Coming Soon: Powerpoint presentations
We look forward to hearing from you. Together we can make a difference.
Sincerely,
-- Mikki Norris, Chris Conrad, Virginia Resner
Human Rights and the Drug War (HR95)
Please contact Mikki Norris for more details.Thank You.

---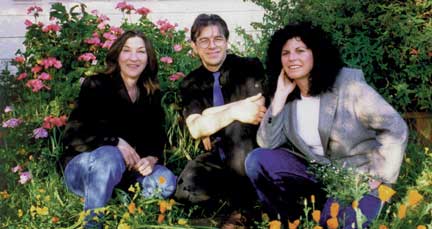 Virginia Resner, Chris Conrad and Mikki Norris. Photo by Carol Hyams, 1998.
The People Behind the Project
Human Rights and the Drug War was originally known as Human Rights 95 (HR 95) and is centered around a photo exhibit showing the faces and telling the stories of victims of US drug policy. This exhibit was the basis for the book entitled, Shattered Lives: Portraits from America's Drug War, published by Creative Xpressions. The book was written by the exhibit's creators and coordinators, Mikki Norris, Chris Conrad, and Virginia Resner. They also collaborated on a smaller book entitled Human Rights and the Drug War, that analyzes our drug policies in the context of the United Nations' Universal Declaration of Human Rights and the US Constitution. At the annual conference of the Lindesmith Center/ Drug Policy Foundation, these three, hardworking individuals were presented with the 2001 Robert C. Randall Award in the Field of Citizen Action for their work in putting a "human face" on the Drug War.
Mikki Norris is creator, curator, and co-coordinator of the Human Rights and the Drug War Exhibit Project. She is involved in the Family Council on Drug Awareness (FCDA), a public policy think tank which researches and develops materials on drug-related topics. As community action co-coordinator for Californians for Medical Rights, she helped organize petitioners to qualify the California Medical Marijuana Initiative (Prop. 215) for the 1996 ballot. Ms. Norris advocates harm reduction and tolerance policies to reduce drug abuse while protecting families and civil liberties. She has traveled around the US and Europe collecting information and networking with hundreds of groups and individuals that are involved with drug policy reform. Ms. Norris has a Masters Degree in Special Education and is a researcher on drug policy as well as numerous peace and justice issues.
Virginia Resner is creator, curator, and co-coordinator of the Human Rights and the Drug War Exhibit Project. As California coordinator for Families Against Mandatory Minimums (FAMM), she organizes local public events and meetings to muster public support for changing sentencing laws. She provides information and support through correspondence to prisoners and their families, to public officials and media. She joined FAMM in 1991 after her boyfriend was arrested by federal agents and her home raided in a warrantless search. She has lobbied in Washington DC to change mandatory sentencing laws and began working on the FAMM Women's Project when she realized how many women are being targeted by current policy. An experienced public speaker, she was drawn into HR 95 due to her empathy and desire to help form support systems for families of prisoners. Born & raised in a progressive activist family in San Francisco, Ms. Resner's father was a labor lawyer.
Chris Conrad is production and art director, editor and writer for the Human Rights and the Drug War Exhibit Project. He is author of Hemp, Lifeline to the Future and Hemp for Health, director of the Business Alliance for Commerce in Hemp (BACH) and the Family Council on Drug Awareness, designing curator of the Hash / Marihuana / Hemp Museum of Amsterdam, and past president of the Hemp Industries Association. A regular guest on talk shows around the country, Mr. Conrad is an internationally recognized expert and consultant on topics related to cannabis and prohibition, and has met with government officials in the US, Canada, Holland, Germany and other countries. As Californians for Medical Rights' Community Action Coordinator, he organized grassroots activist groups statewide to petition and qualify the Medical Marijuana Initiative (Prop 215) for the ballot. He addressed a special hearing of the UN Committee on Reorganization about human needs, and has testified at numerous state and local government hearings on this and related topics. He has been recognized as an expert witness on cannabis in the California Superior Courts.
Human Rights and the Drug War invites you
to join our growing list of supporters and sponsors
Human Rights and the Drug War was initiated by Family Council on Drug Awareness (FCDA), Families Against Mandatory Minimums (FAMM), and Forfeiture Endangers American Rights (FEAR).
Special thanks to the following for their generous support of the Human Rights and the Drug War Project. Participating sponsors include:
The Agape Foundation; Business Alliance for Commerce in Hemp (BACH); Bulldog USA; Cannabis Action Network (CAN); California NORML; Californians for Compassionate Use; Center on Juvenile & Criminal Justice; Common Sense for Drug Policy, Criminal Justice Policy Foundation; Drug Peace House of Amsterdam; Drug Policy Foundation, Ecolution; Foundation on Drug Policy and Human Rights, High Hopes Foundation; Multidisciplinary Association on Psychedelic Studies (MAPS), Ohio Hempery; Pelican Bay Information Project; Santa Cruz Citizens for Medical Marijuana; Jeffrey Stonehill; The Hemp Connection; The World Cannabis Foundation; Richard Wolf, Michael and Michelle Aldrich; Thomas J. Bouril; Miguel Kercado-Bruno; Bruce Margolin, esq.; Wm. Panzer, esq.; James M. Phillips; Ellen Sax; Jeri D. Shepherd, Alan Silverman, and the Zimmer Family Foundation.
Where to send your check made out to HR95:
PO Box 1716, El Cerrito, California 94530 USA
Phone: 510-215-8326 / Email
---

HOME